Watch Latest Video Update on SFWMD Efforts to Alleviate High Water Emergency Situation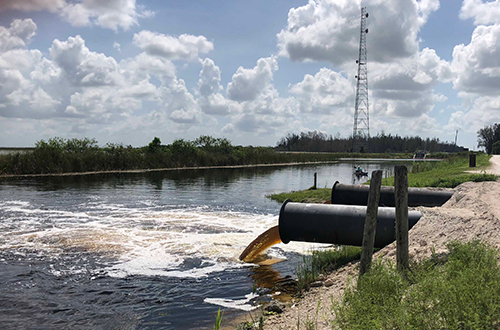 July 5, 2018
West Palm Beach, FL – The South Florida Water Management District (SFWMD) today released its latest video update to inform the public of the latest efforts to alleviate the high water emergency caused by record rainfall throughout South Florida.
The video update can be seen by clicking HERE or visiting the SFWMD website dedicated to the high water emergency situation, www.sfwmd.gov/managinghighwater. This website contains the latest operation information, as well as weekly video updates, where SFWMD Chief Engineer John Mitnik explains current water conditions as well as the actions taken to lower lake levels and move more water south through the conservation areas.
The record rainfall in May caused Lake Okeechobee to rise more than a foot, which led the U.S. Army Corps of Engineers (USACE) to begin releases from the lake on June 1 to the northern estuaries. At the same time, this record rainfall inundated the water conservation areas, causing them to rise above their regulation schedules.
In response to this record rainfall, Gov. Rick Scott directed the Florida Department of Environmental Protection to issue an emergency order that expedites the ability of SFWMD and other agencies to take action to lower water levels in the conservation areas, creating capacity to take water from Lake Okeechobee to reduce the need for estuary releases.
---
SFWMD Chief Engineer John Mitnik gives an update on current water conditions and actions taken by the District to lower water levels, including the installation of emergency temporary pumps.