South Florida Dry Season Rainfall Less than Half of Average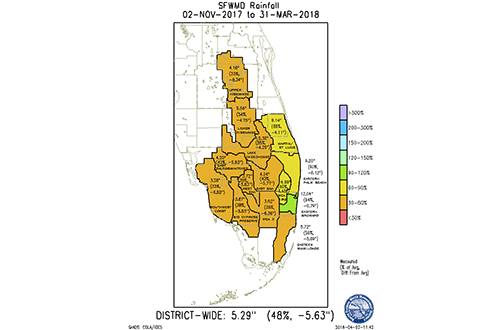 April 3, 2018
West Palm Beach, FL – From November through March, an average of 5.29 inches of rain fell District-wide. This total represents less than half of the average amount of rainfall that normally falls on the region during this same time period of the annual dry season.  
District-wide, about 0.72 inches of rain fell in March, about 2.05 inches or 74 percent below average for the month. Most watersheds in the District received 30 percent of their average March rainfall or less. For the dry season so far, the Upper Kissimmee basin has been the driest at 8.34 inches or 67 percent below the average 12.5 inches.
Despite the below average rainfall so far this dry season, the South Florida Water Management District's (SFWMD) water managers are working with other state, local and federal partners to ensure adequate water supply for the region's 8.1 million residents through careful water management.
"While last year's heavy rainfall and the smart management of our water resource has helped avert a shortage situation so far this dry season, this Board always encourages its residents and businesses to practice daily conservation year-round," said SFWMD Governing Board Chairman Dan O'Keefe. "Water Conservation Month is a great time to remind everyone of the simple ways they can do their part to make every drop of water count."
---