SFWMD Veterans Deploy On Holiday To Help Put Out Palm Beach County Fire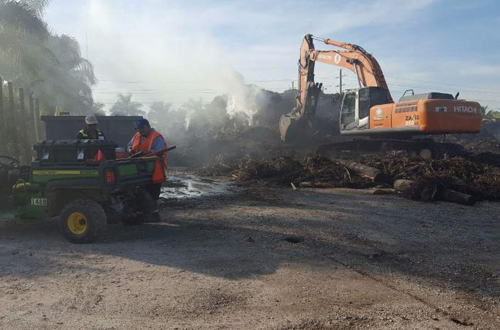 November 11, 2016
Boynton Beach, FL – The South Florida Water Management District (SFWMD) received a call today from Palm Beach County's (PBC) Emergency Operations Center (EOC) requesting help in dealing with a smoldering fire in western Boynton Beach.
As PBC Fire Rescue investigated the situation, which began around 5 a.m., their Incident Commander Kevin Shaw asked for the District's help in deploying crews that could transport and operate track mounted excavators to the location. No residents or homes were in any danger after the area was secured and the fire controlled.
Among the 10 SFWMD employees dispatched on Veterans Day, two are retired military veterans who served in the United States Armed Forces – Field Operations Supervisor Rob Robinson, who served in the Army, and Heavy Equipment Operator Jerry Bennett, who served in both the Army and Navy.
"We appreciate the hard work of our field crews, particularly our two military veterans, in responding to this incident on such an important holiday," said SFWMD Governing Board Chairman Dan O'Keefe. "This is the type of work we do at the District each day to help ensure the safety of South Floridians."