SFWMD Python Hunters Eliminate 10 Snakes in 10 Days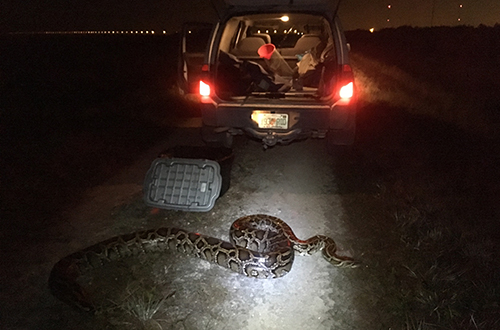 April 4, 2017
West Palm Beach, FL -  In the first 10 days of the South Florida Water Management District's (SFWMD) Python Elimination Program, hunters have removed 10 Burmese pythons with a combined length of nearly 100 feet, saving hundreds of native animals in the process. SFWMD has paid nearly $2,000 in cash to the bounty hunters.
"For these hunters to have already eliminated 10 snakes is tremendous, given the fact that simply locating the elusive python is literally like finding a moving, camouflaged needle in a haystack," said SFWMD Governing Board Chairman Dan O'Keefe. "It's great to see that this Governing Board's action to challenge this invasive and destructive predator has yielded early results."   
Hunter Patrick Campbell has captured the biggest snake to date with a 15-foot-10 inch python killed on April 2. This 135-pound kill netted the hunter $350. Hunters Nicholas Baños and Leonardo Sanchez found the second largest snake to date on April 1 at 15 feet 2 inches. This python netted the hunters $325.