SFWMD Proudly Welcomes Soldier Home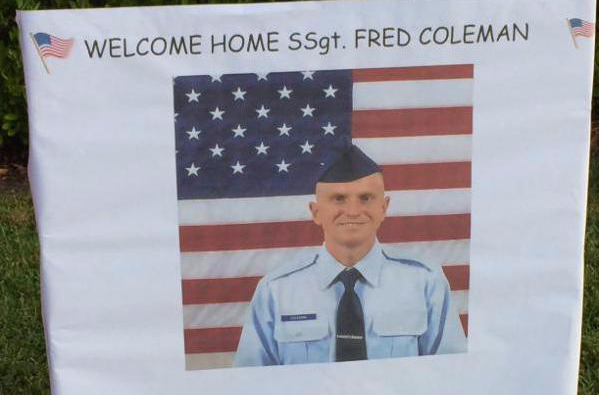 December 16, 2016
West Palm Beach, FL - With great pride and gratitude, South Florida Water Management District (SFWMD) staff and a host of community leaders welcomed home one of their own, U.S. Air Force Reserve Staff Sgt. Fred J. Coleman, from his second tour in Afghanistan.
"At home, Fred is an instrumental member of our land management team protecting South Florida's water resources. Abroad, he is a citizen soldier protecting our country's freedom," said SFWMD Governing Board Chairman Dan O'Keefe. "Fred's dedication to South Florida and the nation embodies the values we live by at SFWMD."
Coleman is also a prime example of the sacrifices made by citizen soldiers and their families. The St. Cloud native was deployed to Bagram Air Base just four months after joining SFWMD. His second child, Emmett, was born while he was on active duty.
"While we were over there, we were appreciative of all the support we got from friends, family and colleagues here at work," Coleman said. "It meant a lot receiving care packages and getting access to all the things we take for granted here."