SFWMD Governing Board Recognizes Staff Responsible for Managing License Plate Program that Funds Critical Restoration Work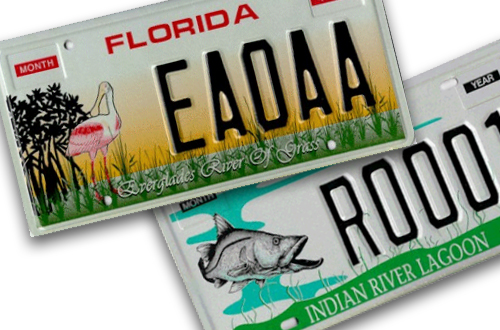 June 13, 2019
WEST PALM BEACH, Fla. - Today, the South Florida Water Management District (SFWMD) Governing Board recognized the agency's Specialty License Plate Compliance Team as team of the month. The Specialty License Plate Compliance Team is responsible for managing funds for two specialty license plate programs that fund Everglades and Indian River Lagoon restoration work. A recent extensive review by the Florida Department of Highway Safety and Motor Vehicles (DHSMV) applauded SFWMD staff for the efficient management of this program.
Revenue derived from the $20 fee to purchase the "Everglades River of Grass" license plate goes to the Everglades Trust Fund, administered by SFWMD, which supports Everglades restoration. The plate, first created in 1998, generated over $200,000 in revenue for Everglades restoration last year alone.
Revenue derived from the $15 fee to purchase the "Indian River Lagoon" license plate helps to fund environmental restoration and educational programs for the Indian River Lagoon in Palm Beach, St. Lucie and Martin counties served by SFWMD and Volusia, Brevard and Indian River counties served by the St. Johns Water Management District. Revenues are distributed based on the number of license plate sales in each county. The plate, created in 1995, generated over $83,000 in revenue to support Indian River Lagoon programs in SFWMD last year.