SFWMD, USACE Take Emergency Action To Protect Wildlife From High Water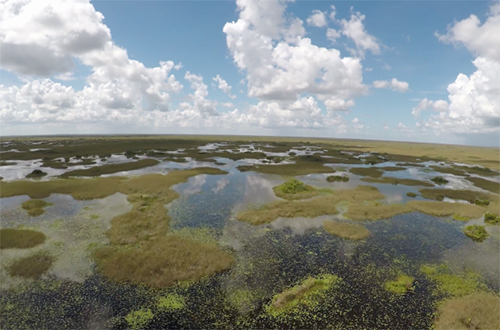 June 28, 2017
West Palm Beach, FL – Heavy June rainfall throughout South Florida, with some areas receiving more than 2.5 times the average, has led to dangerously high water levels in Water Conservation Area 3A in western Miami-Dade and Broward counties. With approval from the U.S. Army Corps of Engineers, the South Florida Water Management District (SFWMD) is using structures not previously available as well as taking several other steps to send as much water possible to tide to protect wildlife in the conservation areas.
High water levels in the conservation areas pose a significant hazard to wildlife. If high water levels persist beyond 60 days, survival of animal species is put at risk. If high water levels persist beyond 90 days, survival of plant species, including tree islands, is put at risk. These risks prompted the Florida Fish and Wildlife Conservation Commission to close Water Conservation Area 3A from recreational use and Florida Department of Environmental Protection to issue an Emergency Order to protect wildlife from flooding.
"Given the enormity of the ongoing emergency situation in Water Conservation Area 3, the District and our federal partners have responded with emergency deviations to protect wildlife," said South Florida Water Management District Governing Board Chairman Dan O'Keefe. "Whether federal or state, it is each water managers' responsibility to do everything in their power to lower the water levels and protect this area from further harm."
---
Click the markers on the map below to see the actions being taken to address the high water emergency.
* NOTE: Flow rates listed on the map may change depending on current conditions, such as rainfall. For real-time water levels, see SFWMD's Site Status Report.
---
SFWMD water managers deployed emergency operating procedures to help the severely flooded Everglades Water Conservation Areas and relieve the Stormwater Treatment Areas (STAs), some of which received volumes of water over triple their capacity as a result of this 100-year storm event.
---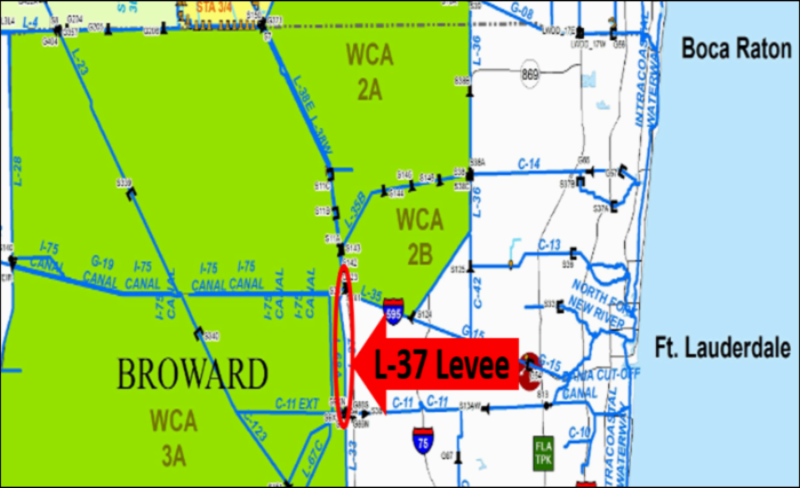 SFWMD has begun daily inspections along the stretch of the L-37 Levee, bordering Water Conservation Area 3A in Broward County between Interstate 75 and Griffin Road, to ensure its integrity. SFWMD safety and operating procedures require checks of the levee when water levels exceed 11.48 feet. High water levels in the conservation area can put pressure on the levee and must be monitored. In 2014, SFWMD reinforced several sections of the Broward East Coast Protective Levee, including the L-37 Levee, by installing a filter berm that used sand to minimize the impact of seepage on the levee.