Guest Column: Local Communities Must Step Up to Address Septic Pollution to St. Lucie River, Indian River Lagoon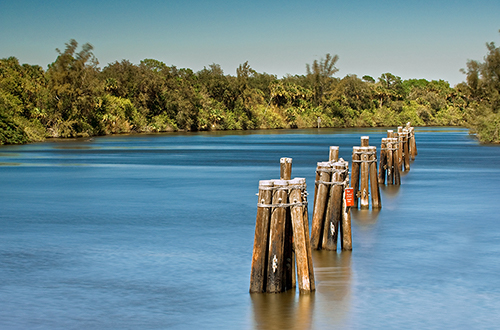 NOTE: This guest column by SFWMD Governing Board member Melanie Peterson appeared in the February 2018 issue of Martin County Currents.
The St. Lucie River and Estuary in Martin County and the Indian River Lagoon are replete with natural beauty and recreational opportunities to be enjoyed by residents and visitors year-round. Unless, of course, it was during one of the 184 times the Florida Department of Health had to issue "No Swimming" advisories for beaches and other swimming spots in Martin County since 2002. The culprit – unsafe levels of bacteria in the water that can make people sick. Shedding some light on the cause are two recent peer-reviewed papers by Harbor Branch Oceanographic Institute, which point to the source of this beach-closing bacteria as septic system pollution.
Special interest groups and activists from the Treasure Coast are quick to look west to Lake Okeechobee or to agriculture lands south of the lake to place blame for their water quality concerns. In reality, the contamination depriving the public of access to the St. Lucie Estuary and Indian River Lagoon is right in their own backyards – human waste contamination from septic tanks.
One of the South Florida Water Management District's core missions is to protect the health and safety of the environment and the public. That is why we have invested billions of dollars in restoring the water quality of the Everglades, protecting the northern estuaries and improving our flood control system that protects 8.1 million residents. We have done, and are continuing to do, our part.
The time is long overdue for residents and communities to do their part by addressing the significant threat to public safety posed by septic system pollution. There are still thousands of septic tanks within the urban services boundary in Martin County. Section 381.00655 of Florida Statutes requires that property owners with septic tanks, even if they are functioning properly, hook up to nearby available sewer lines within a year of being notified by the utility. Local governments are not enforcing this law or encouraging property owners, who are unwittingly polluting their own waterways, to connect to the available sewer service. Even more outrageous, communities like Sewall's Point are now voluntarily choosing not to be part of the solution.
Meanwhile, these same communities, who are not investing a penny of their own money to stop polluting their own waterways, are asking others across South Florida to follow the law and spend billions of taxpayer dollars for projects to protect the St. Lucie Estuary. It is time for local governments to step up and do their part to address their local septic tanks that spew pollution into the estuary every day, making it unsafe for the public and harmful to plants and wildlife. When pointing fingers at the source of the problem, they need look no further than in their own backyards to make a difference for Florida's future and make the most immediate impact on the water quality challenges of the present.
Melanie Peterson
Governing Board Member
South Florida Water Management District