SFWMD Python Hunters Nearing 2,000 Snakes Eliminated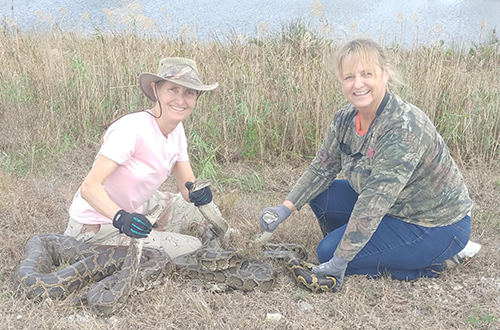 Jan. 23, 2019
West Palm Beach, FL – Hunters for the South Florida Water Management District's (SFWMD) Python Elimination Program are closing in on another significant milestone, with the 2,000th invasive snake expected to be eliminated soon.
SFWMD's python hunters have now eliminated 1,971 of the invasive snakes on District lands, stretching a combined length of almost 2.5 miles and collectively weighing more than 11.5 tons. Brian Hargrove, a Miami native, has dispatched the most snakes with 279 eliminated. Kyle Penniston has the record for the longest snake at 17 feet, 5 inches.
Eliminating invasive species such as Burmese pythons is critical to preserving the rare Everglades ecosystem. Florida taxpayers have invested billions of dollars to restore the water quality and hydrology of the Everglades. Reducing the populations of invasive plants and animals is necessary to ensure this investment results in meeting the shared goals of the overall restoration plan.
SFWMD officials are now utilizing aerial drone technology to survey District lands from above to spot snakes and alert hunters where they have been seen to help find and eliminate them faster. SFWMD is also expanding GIS mapping technology to further enhance existing databases that collect information on where snakes are being found - giving hunters and scientists better data on their whereabouts and behavior in South Florida.