SFWMD Starts Subsurface Investigation Work to Build Everglades Agricultural Area Storage Reservoir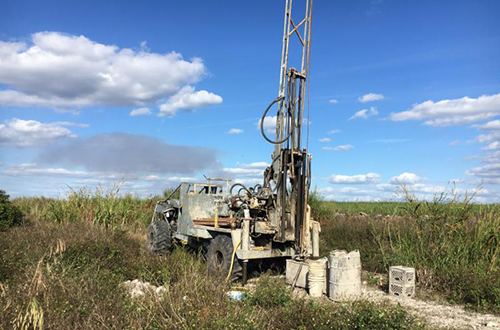 Dec. 12, 2018
South Bay, FL – The South Florida Water Management District (SFWMD) this week is hard at work drilling borings under the ground of what will become the Everglades Agricultural Area (EAA) Storage Reservoir to expedite the completion of the project.
"We are moving without delay to build this reservoir and fulfill the promise made by the Florida Legislature and Gov. Rick Scott to residents through Senate Bill 10," said SFWMD Governing Board Chairman Federico Fernandez. "Last month we began expedited site work by having bulldozers clear the area, this month our teams have started critical geotechnical surveying all in an effort to build this reservoir as quickly as possible."
Crews are conducting geotechnical surveying including drilling 20 borings 50-80 feet deep along the alignment of the proposed levees around the reservoir. The borings will help determine the exact composition of the soil and rock beneath the reservoir land, allowing SFWMD to complete design of the project. Last month, the District began its work to clear 560 acres on the site for construction and over the next month will begin the installation of culverts, as well as improvement to haul roads that will be used to begin moving rock on to the site for the eventual construction of the project's levees.