Ssssseventeen (and a Half) Feet of Snake Sets Python Program Record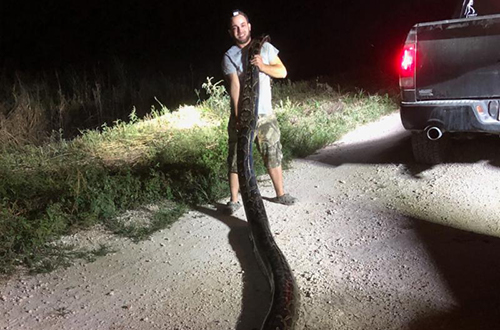 Nov. 7, 2018
West Palm Beach, FL - A record-setting catch earlier this week is moving the South Florida Water Management District's (SFWMD) Python Elimination Program closer to another significant milestone.
Kyle Penniston, of Homestead, made the solo capture of a 17-foot, 5-inch female Burmese python while hunting on SFWMD lands in Miami-Dade County late Monday night. The mammoth snake weighed in at 120 pounds. It's the third caught as part of the program that measured more than 17 feet.
With the record catch, SFWMD's python hunters have now eliminated 1,859 of the invasive snakes on District lands, stretching a combined length of more than two miles and collectively weighing more than 11 tons. Penniston is currently second among the hunters, with 235 snakes eliminated. Brian Hargrove, a Miami native, has dispatched the most, with 257.
"Just six months after eliminating the first 1,000 pythons from District lands, this program is about to double that total because of a true team effort," said SFWMD scientist Mike Kirkland, project manager for the Python Elimination Program. "With the Governing Board's unwavering support, District staff and a dedicated group of hunters are working to help control this invasive species and protect native wildlife."
---
For more information on the Python Elimination Program, visit www.sfwmd.gov/pythonprogram.