SFWMD Governing Board Votes to Raise Army of Creepy Crawlies to Battle an Evil Fern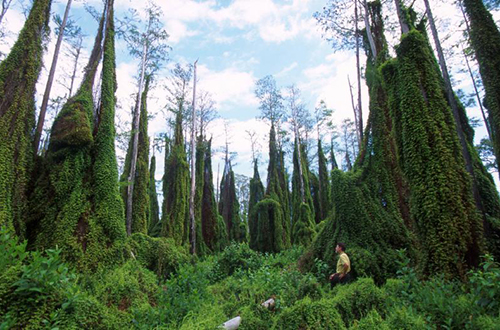 Sept. 14, 2018
West Palm Beach, FL – The South Florida Water Management District (SFWMD) Governing Board on Thursday voted to fund research to develop biological controls to slow the invasion of Lygodium, an invasive plant that is strangling tree islands in the Arthur R. Marshall Loxahatchee National Wildlife Refuge in Palm Beach County. Biological control seeks to reduce the spread of invasive plants by reintroducing natural pests from the species' native range.
"Cutting-edge science has always played a critical role in everything we do at the District," said SFWMD Governing Board Chairman Federico Fernandez. "The Governing Board is excited to be a part of an innovative partnership that will utilize the latest biological methods to tackle the problems created by Lygodium."
The $750,000 program, approved by the Governing Board, funds research by the U.S. Department of Agriculture's Invasive Plant Research Laboratory in Davie. Scientists will identify insects that only feed on Lygodium then conduct experiments to verify that the insects will not feed on Florida native or economically important plants.
These insects can be used to attack Lygodium in the Refuge, where its spread increased by more than 600 percent over the past 20 years. The invasive plant is destroying many tree islands in the Refuge, a key component of the Everglades ecosystem and crucial to the survival of native wildlife.