SFWMD Unveils New Public Geospatial Data Website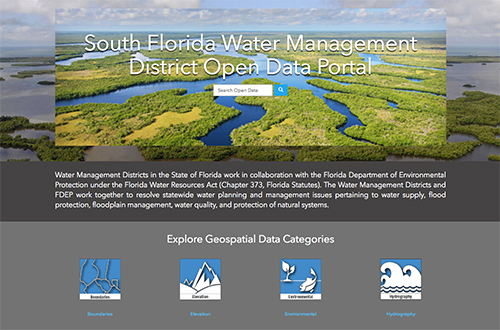 Sept. 6, 2018
West Palm Beach, FL – The South Florida Water Management District (SFWMD) this week unveiled a new web page to provide the public with easy access to its geospatial/GIS datasets. The public can browse, search, filter, preview and download the GIS datasets in a variety of formats.
The South Florida Water Management District Open Data Portal website offers GIS datasets in many different categories from environmental to hydrography to land resources to permits to regulatory datasets. These datasets are maintained by SFWMD and are used by water managers to make operational decisions for the agency's critical missions.
Data available for public viewing include maps of watershed and basin boundaries, sites of District facilities, water utility service boundaries and maps of vegetation in the Kissimmee River floodplain dating back to 1952.
"This Governing Board wants the public to have as much access to the data that goes into water management decisions as possible, so they can understand and play a valuable role in the process," said SFWMD Governing Board Chairman Federico Fernandez. "This new geospatial website puts crucial data just a click away for the 8.1 million residents we serve."