Governing Board Approves Budget Amendment to Fight Lygodium Spread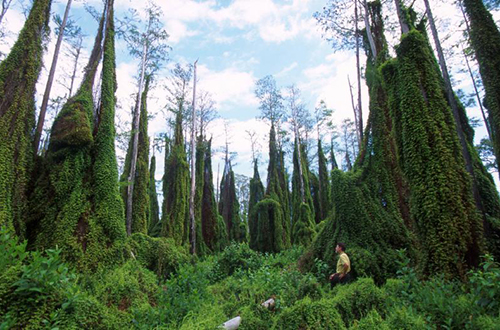 June 14, 2018
West Palm Beach, FL – The South Florida Water Management District (SFWMD) Governing Board today approved a budget amendment that will clear the way for up to $2 million per year in federal funding to help fight the spread of invasive Lygodium, also known as the Old World climbing fern, in the Arthur R. Marshall Loxahatchee National Wildlife Refuge in western Palm Beach County.
The funding will come from the U.S. Fish and Wildlife Service (USFWS), which manages the refuge. USFWS leases the refuge land from the state of Florida under an agreement that includes numerous performance measures, including controlling the spread of invasive plants.
"We must control the spread of invasive plants such as Lygodium to protect the investment of billions of Florida taxpayer dollars to restore the Everglades. SFWMD has shown it is committed to fight this invasive fern and this money offers assistance with the federal government's obligation," said SFWMD Governing Board Member Jim Moran, who spearheaded efforts to forge an agreement with USFWS to ensure more federal funding to fight Lygodium in the refuge.
Lygodium has overrun countless tree islands and its spread has increased by about 600 percent in the refuge over the past two decades. The invasive fern can cause the collapse of tree islands, a crucial part of the habitat in the ridge and slough ecosystem of the Everglades. It also increases the risk of wildfires spreading.