Hissssssssssssssssstory Made in the Everglades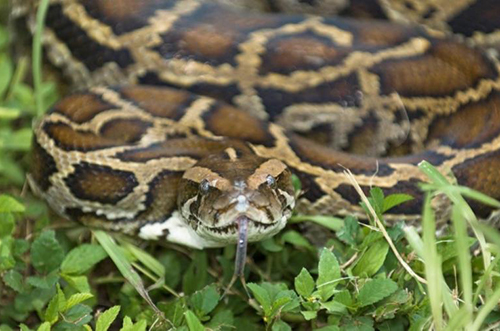 May 23, 2018
West Palm Beach, FL ‐ On Tuesday, hunters participating in the South Florida Water Management District (SFWMD) Governing Board's Python Elimination Program achieved an important milestone for this highly successful initiative by eliminating the 1,000th snake. An average of three pythons have been eliminated per day from SFWMD lands since the program began in March 2017.
Eliminating invasive species such as Burmese pythons is critical to preserving the rare Everglades ecosystem. Florida taxpayers have invested billions of dollars to restore the water quality and hydrology of the Everglades. Combatting invasive plants and animals is necessary to ensure this investment results in our shared goals of the overall restoration plan.
"The success of this program was made possible through a dedicated team approach," said SFWMD scientist Mike Kirkland, project manager for the Python Elimination Program. "Staff implemented, hunters executed and our state leadership, particularly Gov. Rick Scott, supported a program that fights for the Everglades every day."
Hunter Brian Hargrove dispatched the 1,000th python, an 11-foot-2-inch long snake. The weigh-in of the milestone snake was broadcast live on SFWMD's Facebook page and can be viewed by CLICKING HERE. Hargrove, a Miami native who grew up visiting the Everglades as a child, talked about how he used to see the Everglades full of native species and how the python has decimated the native wildlife.
"When we would come out here as kids, rabbits would be everywhere," Hargrove said. "I've been out here hunting for months and I've seen one rabbit and 120 pythons."
Several hunters turned out at the 1,000th snake weigh-in event to congratulate Hargrove and bring their own eliminated pythons. In all, seven hunters weighed in a combined total of almost 98 feet worth of eliminated invasive Burmese python.
All the pythons eliminated by the program would stretch approximately 7,300 feet – or about 1.4 miles - and weigh more than 16,500 pounds, or the equivalent of more than 8 tons. To date, all of this has been accomplished with less than $250,000 spent on wages and bounties for the hunters, an average expenditure of less than $250 per snake.
"Congratulations to the South Florida Water Management District, and the many hunters that have taken part in this program, on the elimination of their 1,000th invasive Burmese python," said U.S. Rep. Francis Rooney, R-Naples. "The 12-foot-long python that is hanging in my office is a daily reminder of the need to eradicate this species and protect the unique ecosystem of our Everglades. I am currently working with the U.S. Department of Interior and the House Natural Resources Committee to allow for hunting of Burmese Pythons within Everglades National Park, as well as to allow the male python tracking program organized by the Conservancy of Southwest Florida. This will speed up the process of eliminating these snakes, which are not native to our area and have no natural predators."
For more information: