SFWMD Prepared for Wet Season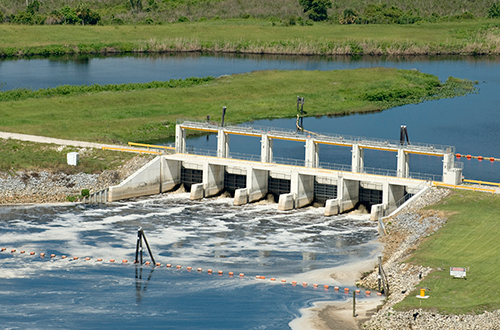 May 15, 2018
West Palm Beach, FL – With the start of the annual rainy season, the South Florida Water Management District (SFWMD) has been preparing South Florida's massive flood control system over the last several months.
Rainfall was slightly above average in April, changing the five month trend of below average rainfall. Since the beginning of the dry season in November, rainfall has been about 60 percent or about 6.13 inches below average District wide. Water levels in many parts of the flood control system are at or below normal water levels for this time of year.
During the annual wet season (typically May 15 - Oct. 15), South Florida typically receives about 36 inches or about 70 percent of its average annual amount of rainfall, according to the National Weather Service. The cycle of sea breeze systems and daily thunderstorms that are hallmarks of the wet season can sometimes develop much sooner than the official start date.
The wet season is forecasted to start with above average rainfall throughout the District through the weekend before settling into the typical cycle of frequent afternoon showers.
---
For updates on storm preparations and SFWMD's general preparations for the coming rainy season:
During heavy rainfall, it's important to make the right call. Watch this video to learn more about South Florida's three-tiered flood control system and who to contact first in case of flooding.