SFWMD Unveils Interactive Strategic Projects Map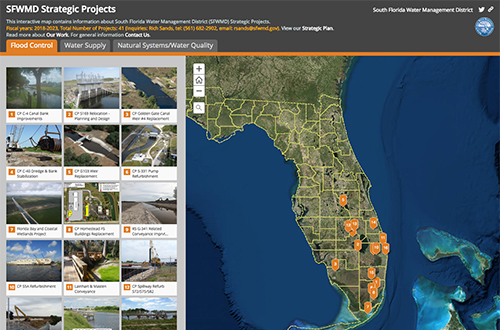 May 11, 2018
West Palm Beach, FL – The South Florida Water Management District (SFWMD) today activated a new website that allows the public to access an interactive map of projects critical to the future of water management in South Florida through the Strategic Projects Interactive Map.
"The District is making tremendous headway on critical projects throughout our 16 counties and this interactive map puts that progress right at the public's fingertips," said SFWMD Executive Director Ernie Marks. "Whether it be the expansion of innovative information sharing technologies or the altering of this agency's processes to increase transparency, this District is committed to finding new ways to engage the public and keep them apprised of the great work being done to benefit their everyday life."
The Strategic Projects Interactive Map was designed through a collaboration of several teams at the District. 
The map allows users to click one of any of dozens of ongoing projects underway as part of the 2018-2023 Strategic Plan, achieving the agency's four core missions of providing flood protection, restoring water quality, ensuring water supply and restoring natural systems. Information includes project photo, name of the project manager and project status.