SFWMD Preparing to Protect Families and Businesses from Flooding During 2018 Wet Season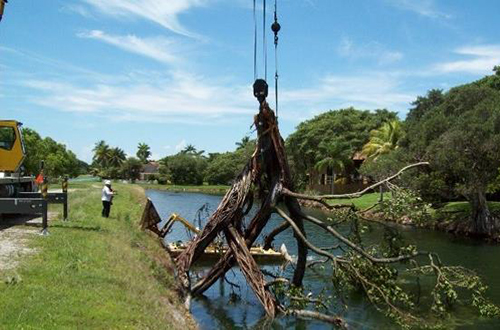 April 23, 2018
West Palm Beach, FL – With the memory of Hurricane Irma's devastating impacts throughout the region last September still on Floridians' minds, the South Florida Water Management District (SFWMD) is already well underway preparing to protect its 8.1 million residents from potential flooding from heavy rainfall or hurricanes this coming wet season.
One example of this is in Lee County, where the District is helping the county clear trees from the banks of the Imperial River, which is not in SFWMD's regional flood control system but is a major route to convey floodwaters away from the Bonita Springs area. The District also recently began clearing trees and vegetation from the banks of the Golden Gate Canal, a major flood control conveyance canal serving Collier County residents.
"This District never stops working to protect residents from flooding, as our staff is constantly preparing the system for the heavy rains that nature provides us during South Florida's wet season," said SFWMD Governing Board Chairman Federico Fernandez. "By working with residents, as well as local and county drainage authorities throughout the year, this agency is able to meet the wet season head-on."
South Florida on average receives roughly 36 inches of rainfall during the annual wet season that typically runs from June through October. This is about 70 percent of the average amount of rainfall received for the entire year.
As a result of the interconnected system of drainage in South Florida, flood control is a shared responsibility between the District, county and city governments, local drainage districts, homeowners associations and residents.
Residents should familiarize themselves with how to contact the homeowners association, municipality or local drainage district responsible for drainage from their property. A Local Contact Viewer tool to determine the local drainage district that represents your property and how to contact them can be found by clicking here.