SFWMD, FWC, USACE, Florida Forest Service Conducting Prescribed Burn on Lake Okeechobee Today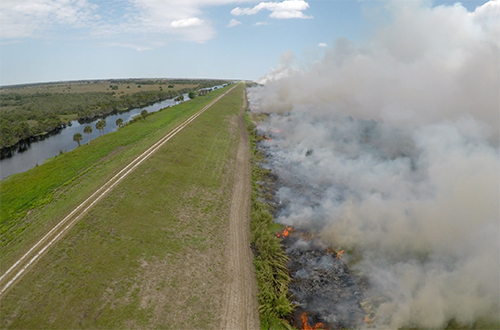 April 4, 2018
Moore Haven, FL – Crews from the South Florida Water Management District (SFWMD), Florida Fish and Wildlife Conservation Commission (FWC), Florida Forest Service and U.S. Army Corps of Engineers (USACE) will burn up to 5,000 acres of dried marsh along the southwestern rim of Lake Okeechobee today. This is all part of the ongoing effort to restore the ecology and habitat of the lake.
The burn will take place along the rim of the lake between the Moore Haven Canal and McTush Cut. It is the second prescribed burn conducted on the lake this year. In March the District participated in a prescribed burn of about 2,000 acres near Buckhead Ridge.
"Continuing to burn when conditions permit is crucial to restoring Lake Okeechobee," said SFWMD Bureau Chief for Land Resources Rory Feeney. "This second prescribed lake burn of 2018 will help reduce plant biomass and stimulate habitat renewal for thousands of wildlife species that call the lake home. The District would like to thank our state and federal partners for collaborating to help conduct this burn safely and with minimal impact on the communities near and around the lake."
---
On March 2, SFWMD partnered with the Florida Forest Service, FWC and the Corps to conduct a prescribed burn of the dried-out marsh on the rim of Lake Okeechobee between the Indian Prairie and Pearce canals.