SFWMD Python Hunters Eliminate 900th Snake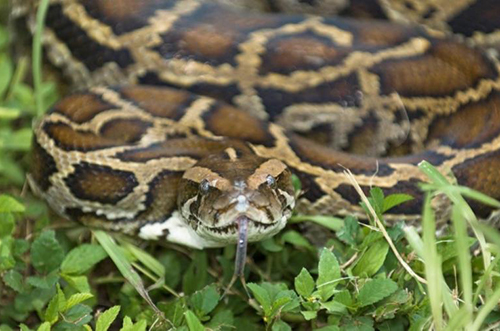 March 1, 2018
West Palm Beach, FL – This week hunters participating in the South Florida Water Management District (SFWMD) Governing Board's Python Elimination Program achieved the latest milestone for this highly successful initiative by eliminating the 900th snake. An average of three pythons have been eliminated per day from SFWMD lands since the program began in March 2017.
"This Governing Board program has been enormously effective in killing this relentless predator in an effort to preserve native Everglades wildlife," said SFWMD scientist Mike Kirkland, project manager for the Python Elimination Program. "The sheer numbers and the sizes of the snakes being caught demonstrate how massive a threat these predators are to our beautiful habitat."
Hunter Eric Bramblet dispatched the 900th python in Collier County, a 5.5-foot long snake. This record high total comes as SFWMD observes National Invasive Species Awareness Week, Feb. 26 to March 2, which is meant to bring attention to the problem of exotic and invasive plants and animals that are wreaking havoc on ecosystems throughout the world. In addition to the innovative program fighting the spread of Burmese pythons, the SFWMD Governing Board for years has budgeted millions of dollars in cooperation with other state and federal partners to eradicate and control invasive species such as melaleuca, Brazilian pepper trees and the invasive fern Lygodium.
All the pythons eliminated by the program would stretch approximately 6,400 feet – or roughly 1.25 miles – and weigh more than 15,000 pounds, or the equivalent of approximately 7.5 tons.
Learn more about SFWMD's Python Elimination Program at www.sfwmd.gov/pythonprogram.