SFWMD Secures Land Exchange Necessary to Advance Everglades Restoration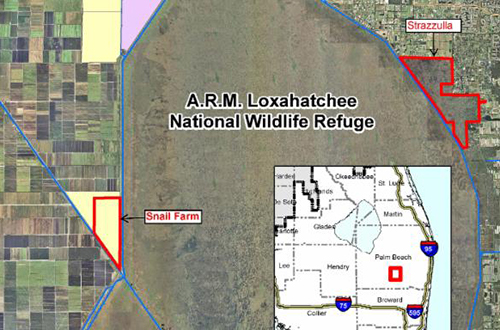 February 13, 2018
West Palm Beach, FL – Last week, the South Florida Water Management District (SFWMD) and U.S. Fish and Wildlife Service (USFWS) finalized an agreement to exchange two parcels of land near the Arthur R. Marshall Loxahatchee National Wildlife Refuge in western Palm Beach County. This timely deal keeps Gov. Rick Scott's Restoration Strategies Plan on track to hit its completion target for design and construction of water treatment and storage projects by 2025.
"Completing this land swap is a big step forward in the state's ongoing and incredibly successful efforts to restore the health of Florida's Everglades," said SFWMD Governing Board Chairman Dan O'Keefe. "This will help SFWMD advance the bold vision of Everglades water quality laid out in Gov. Rick Scott's Restoration Strategies Plan."
The deal exchanges SFWMD-owned lands for 1,327 acres of federally owned land west of the Loxahatchee Refuge known as the Snail Farm parcel. The U.S. Department of the Interior (DOI) will now take ownership of SFWMD's 2,586 acres east of the Loxahatchee Refuge known as the Strazzulla parcel. The deal also includes the release of restrictions held by DOI on other SFWMD-owned properties.
The Snail Farm parcel is crucial to the expansion of Stormwater Treatment Area 1 West, which is part of the Restoration Strategies Plan to complete Everglades water quality restoration.