SFWMD Gives Thanks for Bountiful Harvest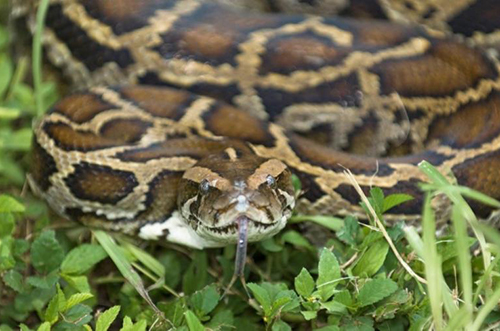 November 22, 2017
West Palm Beach, FL – Earlier this week, hunters killed the 700th invasive python as part of the South Florida Water Management District (SFWMD) Governing Board's Python Elimination Program, the latest milestone for the program. Since the program began in late March, an average of three pythons have been eliminated per day from SFWMD lands.
This month brought two of the largest pythons eliminated as part of the program. On Nov. 1, Dustin "Wildman" Crum, of Myakka City, brought in a 16-foot-11-inch Burmese python that broke his own program record, edging the previous high by an inch. Five days later, a 16-foot-3-inch python killed by Eric Bramblet, of Bonita Springs, weighed in at 143 pounds, 1 pound short of the program record set by Nicholas Banos and Leonardo Sanchez in early April.
"This Governing Board program has been enormously effective in killing this relentless predator to help preserve native Everglades wildlife," said SFWMD scientist Mike Kirkland, project manager for the Python Elimination Program. "The sheer numbers that are being caught and their size shows how massive a threat these predators are to our beautiful habitat."
All the pythons eliminated by the program would stretch more than 4,700 feet – almost nine-tenths of a mile &ndashl and weigh more than 10,000 pounds, or the equivalent of approximately two Lincoln Town Cars.