SFWMD Working with Federal, State Agencies to Save Snail Kites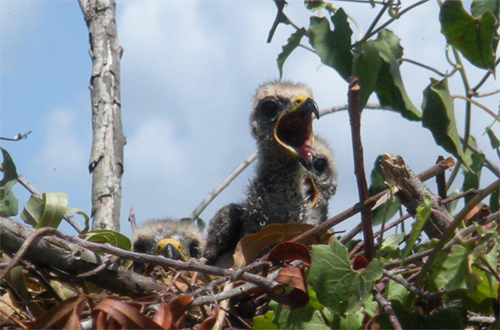 Oct. 5, 2017
West Palm Beach, FL – The South Florida Water Management District (SFWMD) is planning meetings with officials from the U.S. Fish and Wildlife Service (USFWS) and Florida Fish and Wildlife Conservation Commission (FWC) to begin crafting a more comprehensive approach to examining current and future effects on the habitat of the Everglade snail kite. These future meetings are critical to ensuring the long-term success of this endangered bird of prey in South Florida.
The effect of proposed water management projects or actions were previously reviewed by USFWS individually, based on the specific geographic location of the project. Such an approach does not take into consideration the nomadic nature of the snail kite as it moves around South Florida in response to changing hydrologic and environmental conditions, or how a suite of different projects together will benefit both the species and ecosystem.
The SFWMD is working to initiate face-to-face discussions with the USFWS and FWC to create a new, more holistic approach to reviewing projects and management actions. This would allow agencies to assess the state of the population of snail kites across South Florida in regards to water management decision making – not just the effects to a geographically isolated group of snail kites. Decisions could be made based on what is best for this species, either presently or in the future.
"Examining the effects of water management projects and operations on the entire population of snail kites is clearly the most modern and sensible way to examine how restoration will affect this locally endangered bird," said SFWMD Governing Board Chairman Dan O'Keefe. "Looking at one group of snail kites in geographic isolation from the overall population does not lend itself to good decision making, so I am encouraged that these agencies are embarking on this effort with us to create the review process. Success here is important and may set the stage for a more comprehensive and protective approach for all endangered species throughout Florida."