SFWMD Installs Temporary Pump to Alleviate BCB Flooding Caused by Irma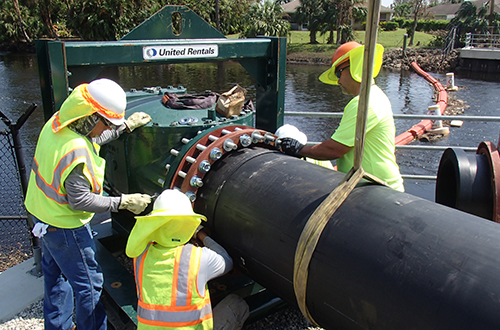 Sept. 22, 2017
Golden Gate Estates, FL – The South Florida Water Management District (SFWMD) installed a pump that will aid in the ongoing efforts to alleviate flooding caused by Hurricane Irma in the Big Cypress Basin (BCB).
The 30-inch pump has been installed and will move water near Golden Gate Weir #2 which is located just west of Interstate 75 in the Golden Gate Estates area of Collier County. This pump will lower water levels at a location near the intersection of the main Golden Gate Canal and Interstate 75 Canal.
This temporary pump, which SFWMD acquired with the help of Florida's state Emergency Operations Center, will move approximately 100 cubic feet per second of additional water out to tide to help lower the water levels faster in those two critical canals.
"Having this pump ready is imperative to moving the high waters that have inundated the Big Cypress Basin following the devastation caused by Hurricane Irma," said Big Cypress Basin Chairman Rick Barber. "This is just one of the District's many ongoing post-storm efforts, such as running the previously installed pumps at the Cocohatchee structure. These and other pumps will help to alleviate the impacts and duration of flooding in Bonita Springs."