SFWMD Working to Lower Water Levels in Areas Most Impacted by Irma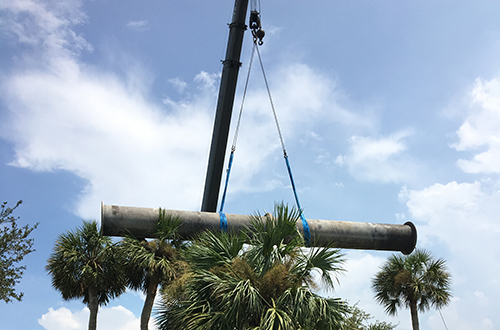 Sept. 14, 2017
West Palm Beach, FL – The South Florida Water Management District (SFWMD) today continued working to lower water levels and ease flooding in communities throughout all 16 counties of South Florida impacted by Hurricane Irma.
SFWMD crews today began installing three 42-inch temporary pumps previously at the Cocohatchee Weir #1 in Collier County, one of the areas hardest hit by Hurricane Irma. The pumps will assist in lowering canal levels in the Big Cypress Basin (BCB) where canals are flowing at maximum capacity to move water away from communities and out to tide. In addition to these three pumps being installed, the District has secured two more 42-inch temporary pumps that will be installed near the G-103 structure in Polk County to help lower water levels in Lake Rosalie.
Water levels in the BCB system remain high but are receding due to the District's efforts.
In southern Miami-Dade County, another area heavily impacted by Hurricane Irma, the District has been pumping flood waters into the C-4 Detention Basin for several days. The C-4 Emergency Detention Basin in southern Miami-Dade County, built following Hurricane Irene in 1999 and an unnamed storm in 2000, is a 900-acre impoundment area that is used by the District to provide flood protection for local residents and businesses in the Sweetwater and West Miami areas. Pumping into this impoundment has concluded as canal levels in this area have now receded.
On the Treasure Coast, the District has begun pumping water into the recently completed Ten Mile Creek Water Preserve Area in northern St. Lucie County. This will help lower water levels in the creek and help mitigate flooding in the area around Ten Mile Creek near the intersection of State Road 70 and Florida's Turnpike west of Fort Pierce.
Across the east coast, most canal levels have receded and water managers expect to be able to resume normal operations by the end of the week.