Award-Winning Chef Gordon Ramsay Helps Python Hunters Eliminate Three Snakes for an Upcoming Segment on His Live Series, THE F WORD WITH GORDON RAMSAY, on FOX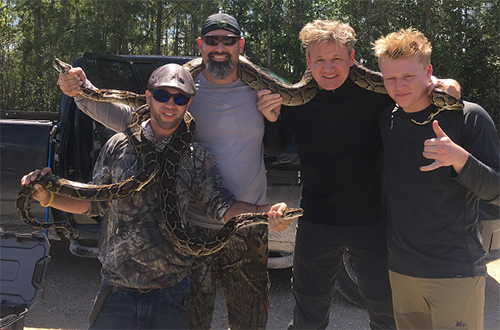 July 25, 2017
Western Miami-Dade County, FL – Emmy-nominated chef Gordon Ramsay recently joined the ongoing fight against invasive snakes being waged by the South Florida Water Management District (SFWMD). Ramsay, host and judge of TV series such as HELL'S KITCHEN, MASTERCHEF and MASTERCHEF JUNIOR, joined Kyle Penniston, one of the most successful hunters of SFWMD Governing Board's Python Elimination Program, to kill three snakes along the banks of the L-28 Tieback Canal in western Miami-Dade County. Ramsay's participation was part of an upcoming segment for his latest series, THE F WORD WITH GORDON RAMSAY, which airs live Wednesdays (9-10 p.m. ET& live/PT tape-delayed) on FOX.
Their kills bring the total number of invasive pythons eliminated by the SFWMD Governing Board's Python Elimination Program to 317 snakes in four months.
Ramsay and his son, Jack, assisted Penniston with all three kills. Ramsay then cooked a python into a special meal right on the levee, using a portable oven. The kills also brought the total number of pythons eliminated by Penniston, of Miami, to almost 30 snakes.
"It was a blast hunting with the Ramsays, and they were very respectful of what we are doing here in the Everglades, fighting these invasive predators to save the ecosystem," said Penniston, who has hunted snakes for years but tasted python for the first time this weekend when he ate Ramsay's cooking. "What an honor to have my first taste of python cooked by Chef Ramsay."