SFWMD Python Elimination Program Grows Bigger And More Aggressive With Broward and Collier Counties Expansion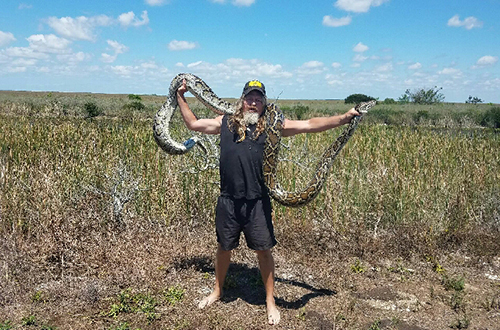 June 16, 2017
West Palm Beach, FL - The South Florida Water Management District (SFWMD) Python Hunters will be back on the prowl for snakes starting tomorrow, June 17, and their hunting grounds are widening. The SFWMD Governing Board last week renewed the Python Elimination Program after the pilot phase eliminated 158 snakes in a little over two months.
The Governing Board has also expanded the area where python hunters are allowed access to now include Broward and Collier counties. Previously hunting was only allowed in Miami-Dade County.
"Having experienced the program firsthand by participating in a live hunt, I cannot say enough about the tremendous work of these dedicated professionals to rid the Everglades of this destructive python threat," said SFWMD Governing Board Chairman Dan O'Keefe. "Eliminating one snake from the Everglades is much more than a single kill. It's the prevention of 40 to 50 more snakes by destroying a large female carrying 40 to 50 eggs; and, it's the countless number of native Florida animals spared from the jaws of these killing-machines."