SFWMD to Broadcast Weigh-in of 1,000th Eliminated Python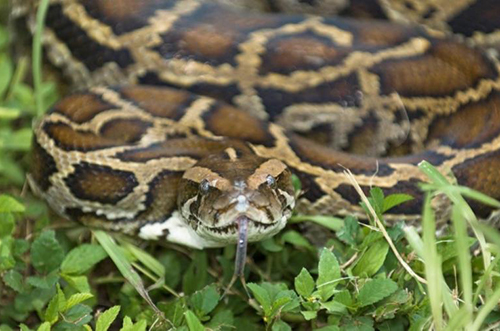 May 21, 2018 
West Palm Beach, FL – The South Florida Water Management District (SFWMD) Governing Board's Python Elimination Program has eliminated 1,000 Burmese pythons, protecting countless native species from being ravaged by the invasive, apex predator.
The milestone snake was eliminated this past weekend by python hunter Brian Hargrove. The weigh-in of the milestone 1000th snake will be broadcast by SFWMD live on its Facebook page on Tuesday, May 22, starting at 11 a.m. 
"The success of this program was made possible through a dedicated team approach," said SFWMD scientist Mike Kirkland, project manager for the Python Elimination Program. "Staff implemented, hunters executed and our state leadership, particularly Gov. Rick Scott, supported a program that fights for the Everglades every day."
"Congratulations to the South Florida Water Management District, and the many hunters that have taken part in this program, on the elimination of their 1,000th invasive Burmese python," said U.S. Rep. Francis Rooney, R-Naples. "The 12-foot-long python that is hanging in my office is a daily reminder of the need to eradicate this species and protect the unique ecosystem of our Everglades."