SFWMD Navigation Locks on Kissimmee River Resume Operations Today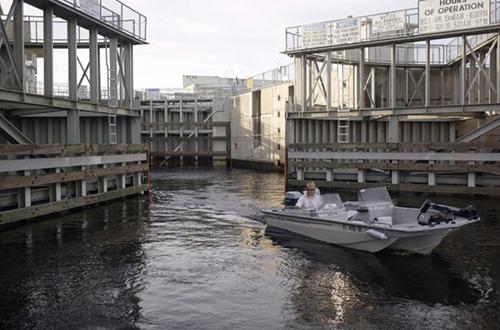 Oct. 3, 2017 
Okeechobee, FL - Normal operations resumed at all South Florida Water Management District (SFWMD) navigation locks on the Kissimmee River this morning:
S-65E at Kissimmee River, Okeechobee/Glades County
S-65D in Okeechobee/Highlands County
S-65A in Osceola/Polk County
S-65 on Lake Kissimmee in Osceola/Polk County
These navigation locks on the Kissimmee River were closed on Sept. 8 in preparation for Hurricane Irma.  For boaters' safety, they remained out of service following the storm as the District used the S-65A lock to increase flows in the river and provide relief for residents and businesses from high water levels in the Upper Kissimmee Chain of Lakes.
Boaters are reminded that the U.S. Army Corps of Engineers will be prohibiting navigation on the C-38 Canal between S-65A and S-65D north of the U.S. Highway 98 Bridge during the final construction phase of the Kissimmee River Restoration Project. Navigation south of the construction site will be available via the S-65D Boat Ramp.