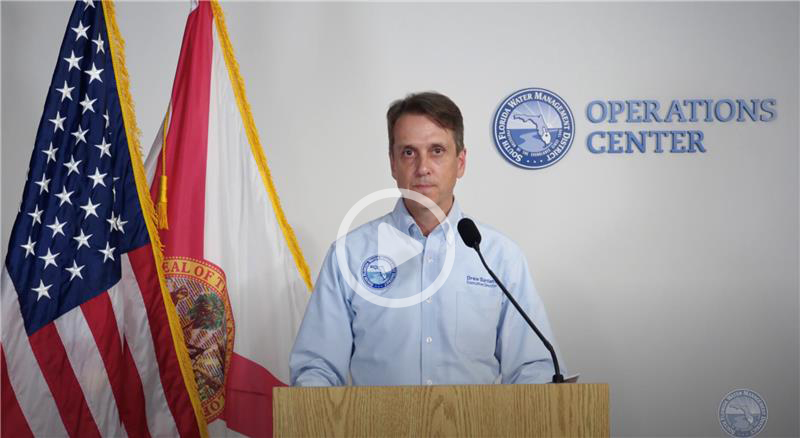 July 31, 2020
South Florida Water Management District (SFWMD) Executive Director Drew Bartlett provided an update on District operations in preparation for Hurricane Isaias earlier this afternoon from the District's Emergency Operation Center.  
Effects of the storm may begin to be felt by portions of Florida's southeast coast as early as this evening. Based on current forecasts, we are proactively lowering our canals to pre-storm levels to allow the flood control system to operate at full capacity if needed.  
Flood control throughout South Florida relies on a primary system that the District operates and secondary and tertiary systems local governments and local drainage operators operate. The District's system is ready for the additional rainfall, and SFWMD has strongly encouraged all local governments and local drainage operators to also proactively monitor the storm and prepare their systems.  
Proactive actions by SFWMD in preparation for Hurricane Isaias:
Lowering canals based on the current forecast.
Monitoring and actively adjusting flood protection gates and pumps in response to the forecast and rainfall.
Working around-the-clock at pump stations throughout Southeast Florida to manage water and ensure continued operations throughout the storm.
Ready to operate Dispersed Water Management ("water farms") projects to store excess stormwater.
Closing SFWMD-managed navigation locks to ensure the safety of the boating public and prevent damage to the locks.  
In advance of any storm conditions, residents should: 
Secure all loose outdoor items that may be blown away. 
Clear neighborhood drains, ditches and swales of leaves, yard trimmings and other debris that may obstruct efficient drainage.¯ 
Follow guidance from their county EOC.  
Know who to call to report flooding.  
Remember that standing water and rising levels in local lakes and ponds is normal during and after a storm. 
SFWMD will continue to keep the public informed on its emergency operations and flood control efforts as Hurricane Isaias approaches.  
Continue to check SFWMD's Isaias webpage, Facebook and Twitter for the latest updates on operations by the District. 
Media Resources (Available for use and broadcast)
INFOGRAPHIC: Rain Drain: What to expect in your neighborhood when it rains [PDF]