Florida Achieving Everglades Water Quality Goals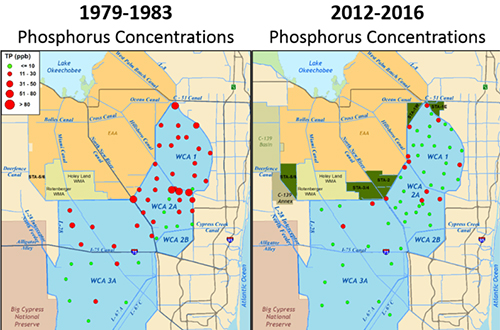 November 3, 2016
West Palm Beach, FL - More than two decades of collaboration by the Florida Department of Environmental Protection and the South Florida Water Management District (SFWMD) is accomplishing the important goal of restoring water quality in the Everglades. Tests shows at least 90 percent of the Everglades now meets ultra-clean water quality standards for levels of phosphorus of 10 parts per billion or less required by a federal consent decree and established under state law. In fact, 86 percent of the Everglades is well below that water quality threshold at 8 parts per billion, or less and 100 percent of Everglades National Park is below 8 parts per billion.
A few remaining areas are close to meeting that threshold already, with ongoing projects under construction as part of Gov. Rick Scott's $880 million Restoration Strategies program. This will bring the entire unique ecosystem of the Everglades into compliance with the state's stringent water quality standards soon.
"The water quality targets needed for America's Everglades to thrive are being met thanks to our dedication and use of sound science over the past two decades," said SFWMD Governing Board member Jim Moran. "With the work already underway through Gov. Rick Scott's Restoration Strategies we will restore water quality in the Everglades."