Clarification: Availability of District-owned land in the EAA for storage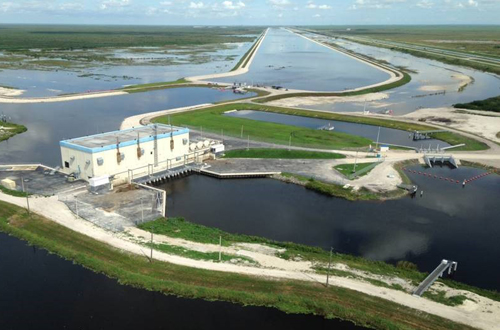 January 14, 2017
State policy-makers may direct the construction of a large water reservoir, as well as additional stormwater treatment, on the District-owned land in western Palm Beach County in the Everglades Agricultural Area (EAA), commonly known as the A-1 and A-2 lands. In fact, the District acquired these lands and other nearby lands more than 15 years ago for this specific purpose. In 2007, environmental organizations sued to stop construction of a large EAA reservoir. These groups objected stating that the District was accelerating restoration beyond the government's ability to keep up.
The District suspended construction of this large EAA reservoir in 2008, and the environmental organizations dropped their lawsuit in 2009.
In order to improve Everglades water quality, the District developed the A-1 parcel on the eastern portion of this land by building a shallow reservoir known as a Flow Equalization Basin (FEB), as part of the Restoration Strategies plan. The A-1 FEB functions as a shallow impoundment that captures, stores, provides pre-treatment and delivers stormwater runoff to the District's large Stormwater Treatment Areas (STAs) at rates that optimize STA performance. The District operates the A-1 FEB pursuant to permits issued by the Florida Department of Environmental Protection to improve the quality of water discharging from the STAs.
The remaining portion of the land in question, known as the "A-2" land, has never been and is not currently subject to any court or administrative order mandating it be used for a particular water management purpose.
The District currently leases the A-2 land for agricultural purposes. The A-2 lease expires in 2019. District engineers are fully capable of constructing a deep reservoir with the requisite water quality features on this land, which is already owned by the state.