Board Votes to Expand Water Quality Monitoring in Northern Everglades and Lake Okeechobee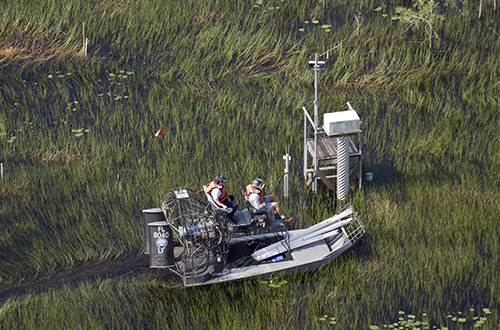 August 8, 2019
WEST PALM BEACH, Fla. - The South Florida Water Management District (SFWMD) Governing Board today voted to dramatically expand water quality monitoring within the Northern Everglades watersheds and Lake Okeechobee. 
These additional water quality measurements help to fulfill the directives of Gov. Ron DeSantis in his Achieving More Now For Florida's Environment Executive Order which directs water management districts to provide data to support statewide water quality efforts. It also helps to fulfill the initiatives of the Blue-Green Algae Task Force convened by Gov. DeSantis to better understand harmful algal blooms in Lake Okeechobee and the coastal estuaries in the Northern Everglades.
"The South Florida Water Management District is glad to support Governor DeSantis' ambitious effort to improve water quality in the Everglades with today's vote to expand our water quality monitoring," said SFWMD Governing Board Chairman Chauncey Goss. "More scientific data leads to better decisions and helps us achieve more now for Florida's environment. That is why we are investing in a robust scientific monitoring infrastructure, so we can have the most complete picture possible of the health of this great ecosystem to make the best possible decisions to restore and protect it."