Benjamin Butler, Governing Board Member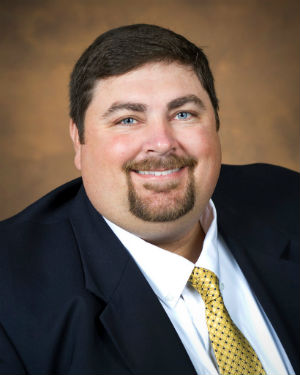 Ben Butler of Lorida, is a fourth-generation dairy farmer and eighth generation Floridian. He is manager of Butler Oaks Farm, a family owned dairy farm. Butler Oaks Farm has operated for more than 80 years and has received the Agricultural-Environmental Leadership Award from the Florida Department of Agriculture and Consumer Services. Butler is a director of the Okeechobee County Farm Bureau since 2007, currently serving as Vice-President, and is the past President and Director of the Okeechobee Youth Livestock Show since 2008. He earned his Bachelor's Degree (2002) and Master's Degree (2019) in Animal Science from the University of Florida.
Butler has taken an active role on his family's farm since 2005. He is responsible for the dairy herd and its employees, and the care, feeding and day-to-day operations of the dairy, including the environmental and water aspects for the farm. He has been actively involved in his family's water use for agricultural purposes and water quality projects for environmental preservation. Butler understands the importance of water to not only agriculture, but to the entire central and south Florida growing population and industries. He uses his real-world experience to provide a background of understanding, while acknowledging the complexities and challenges with water quality, availability and flood protection to the region. 
Butler is a 4-H volunteer, provides leadership to the Florida Dairy Youth committee and serves on the advisory committee for the University of Florida, Department of Animal Sciences. He is married to Tallahassee native April Butler, and together they have one daughter, Hannah. Much of their free time is spent helping their daughter and other students raise and exhibit their dairy cattle at 4-H shows and events. However, they also find time to enjoy Florida's natural resources, scuba diving in the Florida Keys for lobster, water skiing on the area lakes and camping throughout Florida. Butler and his family are members of Oakview Baptist Church in Okeechobee, FL. 
Butler was appointed by Governor Ron DeSantis in November 2019 and reappointed in May 2021 to serve as an At-large Governing Board Member for the South Florida Water Management District, representing an area that includes Glades, Highlands, Okeechobee, Orange, Osceola and Polk counties.
---
Current Term: 05/2021 - 03/2024
Phone: (561) 682-6262
Email: bbutler@sfwmd.gov
Areas Represented: Glades, Highlands, Okeechobee, Orange, Osceola and Polk counties
Appointed By: Gov. Ron DeSantis 
Original Appointment: November 2019
Education: 
Bachelor of Science, Animal Science - University of Florida
Master of Science, Animal Science - University of Florida 
Contact Address: 
SFWMD Governing Board
3301 Gun Club Road
West Palm Beach, FL 33406
Occupation: Vice-President and Manager of Butler Oaks Farm, Inc. 
Professional, Business and Service Affiliations
Member, Oakview Baptist Church, Okeechobee, FL
Director and Vice-President, Okeechobee County Farm Bureau
Director and Past President, Okeechobee Youth Livestock Show, Inc.
Appointed Member, Highlands County Natural Resource Advisory Commission
Adjunct Faculty, Warner University
Advisory Committee Member, University of Florida, Department of Animal Sciences
Committee Member, Quality and Government Relations, Southeast Milk, Inc.
Committee Member, Southeast Dairyman's Check-off
Committee Member, Florida Farm Bureau Dairy Advisory Committee
Alternate Director, United Feed Co-op
Member, Florida Cattleman's Association
Volunteer, 4-H Organization
Graduate, Wedgworth Leadership Institute for Agricultural and Natural Resources, Class IX
Graduate, Highlands County Sherriff's Citizens Academy
Past Director and Vice-President, Okeechobee Area Agri-Council
Past Director, Okeechobee County Fair Association
Past Director and President, Okeechobee Future Farmers of America Alumni
Past President, Florida Future Farms of American Association
Lifetime Member, National Future Farms of America Alumni
Past Member, Florida Blue Key
Past Member, Alpha Gamma Rho Fraternity