SFWMD Welcomes Governing Board Member - Jacqui Thurlow-Lippisch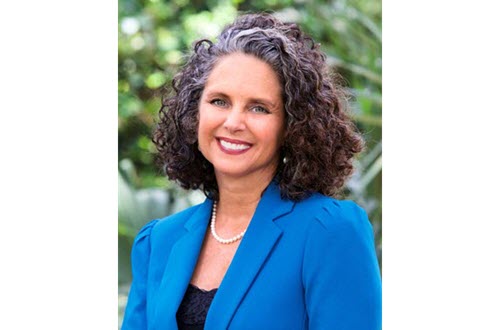 Jacqui Thurlow-Lippisch is a former high school teacher who taught English and German. For the past 18 years, she has practiced real estate and is currently a referral agent with the Life Style Realty Group. Thurlow-Lippisch is a longtime advocate for the St. Lucie River and Indian River Lagoon, who publishes a blog sharing commentary about the impacts to the health of those waterways.
A former commissioner of the Town of Sewall's Point, Thurlow-Lippisch also served as the town's mayor. She is very active in environmental and community issues on the local, county and state level. She was appointed by Senate President Joe Negron to serve as commissioner for Florida's Constitution Revision Commission. In 2018, she sponsored the bill to Prohibit Offshore Oil and Gas Drilling in Florida's Territorial Seas that became part of Ballot Amendment 9 and overwhelmingly passed with over 68% of the voters.

Other key leadership positions include Chairing the Treasure Coast Council of Local Governments and the Florida League of Cities Energy, Environment and Natural Resources Legislative Committee. She also served as Vice-Chair of the Treasure Coast Regional Planning Council and as an SFWMD Water Resource Advisory Commission alternate.

Thurlow-Lippisch grew up in Stuart and lives in Sewall's Point with her husband, Dr. Ed Lippisch. She holds leadership roles in various organizations to bring awareness to preserving and protecting the environment. She currently serves as Board Member-at-large for the Florida Wildlife Federation, member of the Guardians of Martin County and the Rivers Coalition Inc. and as Volunteer Administrator of the River Kidz Organization.

Thurlow-Lippisch received a B.A. degree in Journalism and Communications and a B.A. degree in German from the University of Florida. She also earned a Master of Arts degree in Curriculum and Development from the College of Education, University of West Florida.
Current Term: February 2019 - March 2022
Phone: (561) 682-6262
Email: jthurlowlippisch@sfwmd.gov
Areas Represented: At-large from St. Lucie, Martin, Palm Beach, Broward, Miami-Dade and Monroe counties
Appointed By: Governor Ron DeSantis
Original Appointment: February 2019
Education:
B.A. Journalism and Communications – University of Florida
B.A. German – University of Florida
M.A. Curriculum and Development - College of Education, University of West Florida
Contact Address:
SFWMD Governing Board, 3210
P.O. Box 24680
West Palm Beach, FL 33416-4680
Fax: (561) 682-6010
Occupation: Referral Agent, Life Style Realty Group
Professional, Business and Service Affiliations:
Member, Florida Wildlife Federation
Member, Rivers Coalition Inc.
Administrator, River Kidz Organization
Past Member, Board of Directors, Treasured Lands Foundation
Past Member, Board of Directors, Harbor Branch Oceanographic Institute Foundation (Marine Mammal Volunteer)